Spring arrived a little early across the Ozarks, and as we can see, trees are flowering ahead of their normal schedule. Magnolia, pear, cherry, and forsythia trees are in full bloom! Although we've been spoiled with warmer weather, we do have a threat of freezing temperatures next week with the potential to freeze off these beautiful spring flowers.
Granted, there is one tree among those that are flowering that many of our customers wouldn't mourn in the event of a good freeze, particularly it knocked off the fruit. Which tree, you ask? Sweetgum.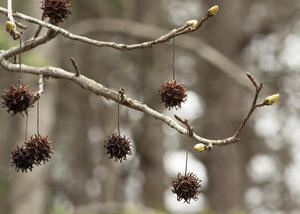 The Sweetgum tree has a flower that is elongating right now and will be perfect for a freeze in about 2 weeks or so. The timing all depends on the daytime temperatures and the exposure to sunlight for each particular branch. The top of the tree may have full flowers where the tree's north side might have flowers only half the size. This means a freeze will only affect the top portion, and the north side will still have some gumballs.
Our phone has been busy with complaints and questions about how to eliminate these gumballs. I hate to see the trees cut down because of these nasty, spiky gumballs that fall to the ground throughout winter. A freeze can, however, knock out the crop for this year if it hits at the right time.
There's an injection we can give the trees called "snipper," which claims to knock the flowers off and eliminate the gumballs if injected at the proper time. I tried this product for 3-5 years in the late 90s and the results were just not good enough to continue its use. The cost is not cheap and customers didn't feel it was worth the investment, especially when the best I could offer was a 40% reduction. I hope this answers the question about any available products to get rid of those pesky gumballs. Sadly, I know of none at this time that would be worth your money.
Pruning can reduce the gumballs—we just can't take too much leaf from the tree. Feel free to contact Cherokee Tree Care and I will be happy to come take a look!